Buy Macafem



Macafem strengthens your hormonal system as a whole and helps your body regain its balance. This is what makes Macafem unique – it enables the body to produce its own hormones at the right amounts, which relieves the symptoms of menopause and can improve your libido and energy levels as well.
MACAFEM SUPPLEMENTS
Standard Plan: 3-month supply for best results!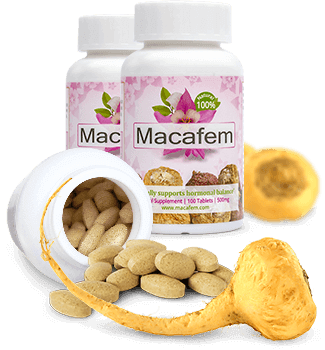 Macafem can reduce your symptoms within a week. However, for best results, we recommend our 3-month plan, which will give plenty of time for your body to regains its balance and help relieve the most common symptoms of menopause.
Relieves PMS symptoms
Relieves menopause symptoms
Increases libido
Counters fatigue
Try it out: 1-month supply
A chance to see for yourself!
Content: 100 tablets / 500mg
Supply: 1 month / 3 tablets per day
Experience a decrease in your menopause symptoms within the first month.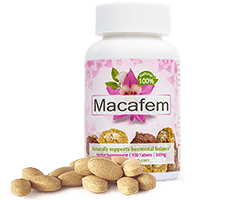 Premium Plan: 5-month supply
For our long-term customers
Menopause is a stage of life that may take years to transition through. Continue taking Macafem as long as you need it and keep your symptoms under control.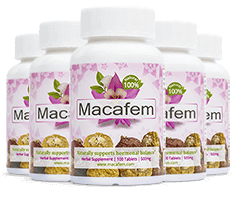 We Take Care of Our Customers
Because we care about our customers and want them to be 100% satisfied with our product, we have chosen not to work with any third parties, so Macafem is not sold through any pharmacies or supermarkets like Walmart or Walgreens. We offer a high end product, and by buying directly from us, you're sure to receive personalized service, direct assistance, and reliable information from our customer care team. Orders are processed promptly and securely, and your personal information will be handled confidentially.